Tag Archives:
grab bag
Thriving Ink, a Bay Area t-shirt brand that I am super impressed with, has recently released a Grab Bag consisting of three tees.
For $15, you get three of their tees from last season in the size of your choice.  Shipping is an additional $5, so ultimately you pick up three t-shirts for $20.
The Grab Bag deal is to make way for Thriving Ink's recently launched line, which features 15 brand new designs.  You can hit the jump to see some of their newest pieces.
In addition, Matt over at Thriving Ink has offered up a custom discount code for all 'In My Short Sleeve' readers.  Use the discount code SHORTSLEEVE to take 15% off your purchase.  This discount code has now been added up in the "Coupons" section up at the top left of the page for further reference.  Thank you Matt!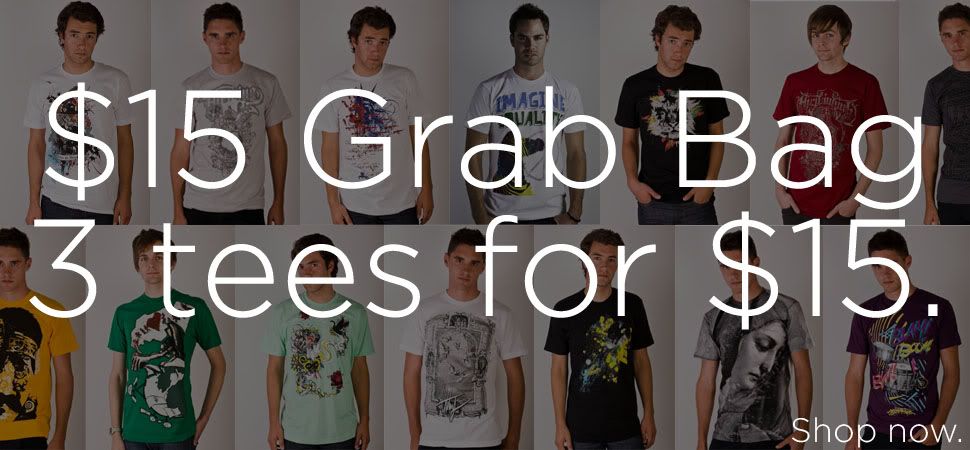 To help lighten his load on his move to California later in the year, SEIBEI introduced his "SEIBEI GRAB BAG."
For $13, you receive a random t-shirt in the size you specify, as well as some extra goodies such as a pink pack, a tote, or perhaps even a second t-shirt.  In addition, you'll be interested in a drawing for a hand painted, never released SEIBEI figurine, which will take place on July 9th.
Orders can be made via SEIBEI.